For this Holiday Season, I used Contractor's Paper to wrap all of my gifts. You can find these huge rolls in the painting section of your local hardware store. I absolutely love this stuff because it wraps MANY gifts, it's heavy duty, AND it's a blank canvas. I can continue to use this wrapping paper all year long and give it my own personal touch for each person I wrap a gift for. You can draw, paint, stamp, and collage to your heart's content! Please note that when you are wrapping, you may want to use clear packaging tape (not regular tape) as this paper is a heavy-duty paper.
When wrapping my gifts for the season, I kept it simple and went for the more natural look using jute twine and fuzzy black yarn. I used leftover scraps from the contractor's paper to make gift tags, using the same bird stamp from my Twelve Days of Christmas piece. To finish off my holiday gifts, I placed a rosemary sprig from my herb garden on each package.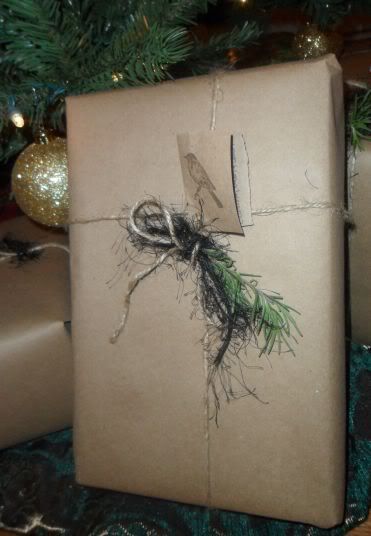 Rosemary is the perfect addition for any holiday or family/friends gathering as it represents good memories. How could I NOT include a sprig in each gift?