I am a member of the abc_alteredbookclub through Yahoo Groups and participated in a Twelve Days of Christmas gift swap which Elizabeth hosted. Each of the twelve participants were to pick one of the twelve days of Christmas and create a total of 12 pieces for their day in 5"x5" format. Eleven of the twelve pieces we created were creatively wrapped and mailed to our host Elizabeth while we retained one of our creations for ourselves. Once Elizabeth received all of them she mailed the remainder of the 11 days back to us. We were to begin opening the 1st day of Christmas on December 26th.
On the First Day of Christmas, my true love gave to me...
A Partridge in a Pear Tree
by LIZ KETTLE
You may visit her blog by
clicking here.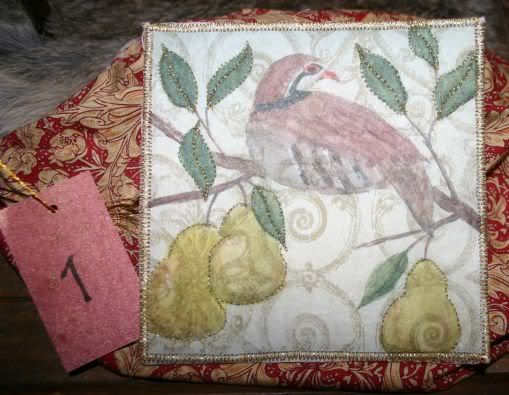 This is how she created her wonderful and gorgeous piece in her own words:
"I began by painting a pear branch and partridge on watercolor paper. I am still very much a beginner with watercolors but think this turned out pretty well! I scanned the painting and reduced it to 5"x5". Then I printed it out on tissue paper 12 times using waterproof pigment inks. My base is a craft stabilizer to which
I used a heat activated fusible web, Misty Fuse, to apply a sheet of gold
scroll tissue paper. I cut these into 5" squares. Next, I used matte medium
to apply the partridge in the pear tree image. The matte medium renders the
tissue paper transparent. I stitched around the pears and leaves using gold
metallic thread to finish up."
I absolutely love your creation Liz! I love the feel and texture of your piece. The stitching is beautiful and if you are saying you are a beginner with watercolors, you are a natural at it!