On the Fourth Day of Christmas, my true love gave to me...
Four Calling Birds
by YOURS TRULY ;)
I used a brown paper lunch sack to wrap my Four Calling Birds piece. I simply cut down one of the side seams and cut out the bottom (which I plan to re-use as perhaps as an ATC base or perhaps even tags)...us mixed media artists LOVE to recycle and re-use things. Nothing goes to waste! =) I wrapped the piece and folded the top and bottoms down and also used decorative edged scissors to cut a jagged line across the folded area. I used a paper hole-puncher to punch holes in the top and tie a black fuzzy bow on the package. I then stamped the paper sack using chocolate brown stamping ink.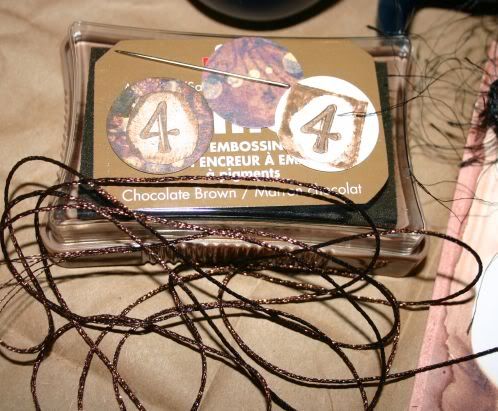 This is a visual of some of the materials used to create the piece.
The photograph used in this piece is one of my own photos...so no worries on copyright issues. ;) I then digitally altered it by using filters along with a sepia tone. It was printed on white card stock paper and then to create an aged look around the left-hand edge, I used brown water color paint and let it run.
For the hanging 4, I used a 1" circular paper punch and punched out several pieces from decorative scrapbook paper. I then used the same 1" paper punch on white card stock paper, stamped the 4, cut around it, then used the Chocolate Brown colored stamping ink on the edges and then lightly pressed over the 4 to give it more of an aged look. The 4 was then glued onto the 1" circle and a needle was used to puncture a hole and run the metallic copper thread through and tied. I then punched two holes into the actual art piece and pulled the metallic thread through, taping it to the back. It was then finished off with bronze mini-brads. For the final touch, I ran the fuzzy black yarn down the side and taped it to the back. The back was then covered with 5"x5" white card stock and black stamping ink was used on the edges and around the writing which explained my interpretation of the Four Calling Birds.
This is what I wrote:
During the holiday season, many people stay busy visiting with family and friends. I am from the southern United States and grew up hearing my elder ancestors say they were "going calling" or "going to call on someone." This phrase meant they were going to visit someone. Hence, my interpretation of the Four Calling (Visiting) Birds.