On the Twelfth day of Christmas, my true love gave to me...
Eleven Pipers Piping
by: CATH CROMPTON
You may visit her blog by
clicking here.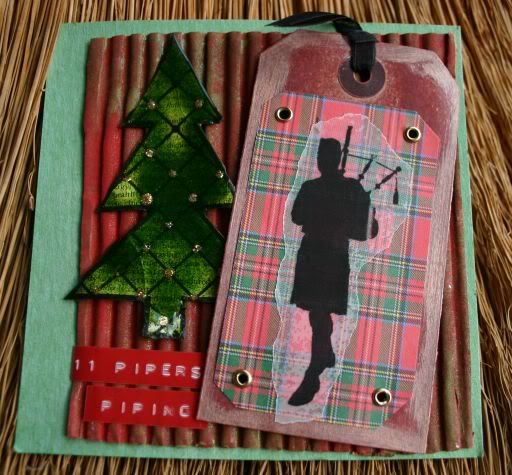 I love the hip wrapping and your wonderful layered creation Cath! It is a wonderful creation that features beautiful colors, a gorgeous tree and a plaid paper behind the piper that reminds one of the kilts they wear.
This is how Cath created her 11 Pipers Piping as described on
her blog
:
"I started with a basic white card and sprayed it green. Then a smaller piece of corrugated card I painted red then a slight spray with the same green. I then stamped the tree shape on to dictionary pages cut them out and dipped them into my melt pot with green embossing powder in. When dry I added the dots with glitter glue but they all haven't stayed on. The tag was coloured with an ink pad in red then the edges brushed with a copper paint. The piper was printed onto tracing paper ripped out and added to the tartan that was attached with eyelets to the tag. A small piece of ribbon and the wording done on my Dymo machine and that was it."