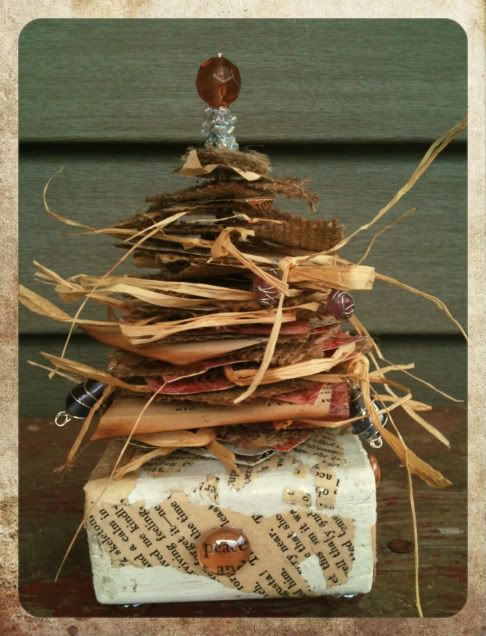 Items needed:
Wooden block
Old book pages
Handmade paper
Burlap
Raffia
Square piece of cardboard
Beads (seed beads, large bead & wire-wrapped beads)
Glitter
Glass beads
Paint (white)
Stamping ink (Brown)
E-6000 glue
Hot Glue
Directions to make your very own tree:
1. I have tons of scrap wood around our house due to our ongoing projects around the house. Hopefully, you do as well. ;-) Cut the wood to your preferred size and sand away the splinters. Paint it white and set aside to dry.
After drying, use mod podge to glue torn old book pages to the top and sides. Then sprinkle with glitter. This will be the base for your tree.
2. Paint your square piece of carboard white. (You should really do this while you are painting your block.) After drying, puncture it through the large nail. This will be the base of your tree.
You will then alternate the handmade paper, burlap, raffia, and old book pages. Use larger pieces for your base and gradually have them get smaller as you work your way to the tip of the nail.
Use the brown stamping ink to distress the edges of your book pages.
3. Hot glue the glass pebbles to the bottom of your wooden block for feet. If they are slightly uneven, use a dab of hot glue on the shorter ones to balance out your wooden block.
4. Use the E-6000 to glue the head of the nail (the base of your tree) to the top center of your wooden block. After allowing it to dry a bit, coat the tip of the nail with E-6000 glue and add a large bead at top. Then add clear seed beads below the larger bead. I also added one single seed bead to the top of the large bead for a more finishing touch.
5. Add the wire-wrapped beads for ornaments.
6. Finish it off with word glass pebbles placed on all four sides in the center. I used peace, faith, heart, & spirit on mine.
If you don't have all of the exact same supplies, improvise! I encourage you to make it in your own unique style. After all, that is what creativity is.
If you make one, please feel free to comment with a link showing off your own creation!